Welcome creative friends!
Welcome into the new year,
wish you a year full of fun and joy in creative work !
It's wintertime here, cold, snow and ice have us again fully in the grip. Snow shovelling is again announced, an occupation  not always great joy arises, our dog sees that but quite different, he is completely thrilled by the snow broom and would like to sit on top and push along.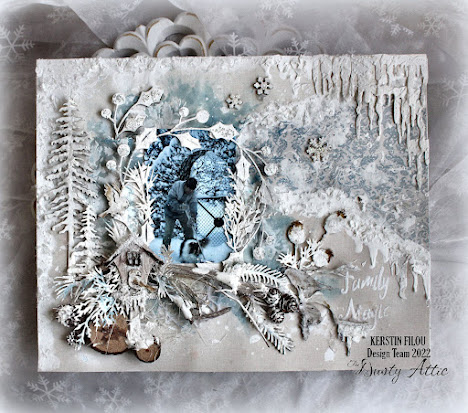 I created a mixed media canvas with lots of snow and ice crystals, not to forget a bird house, which is especially popular in winter in our garden. 
I found a lot of suitable theme shapes at Dusty Attic,love the 3d optic of the bird house and the nature inspired chippies. I worked mainly with white gesso and added a few color accents with diluted blue acrylic paint and a little brown. I also used die-cuts, which together with the chipboards bring more vividness and fullness to the layout. To bring more depth to the project, dried wood slices and branches were used.
some close up's





used Dusty Attic chipboards

 
 
I hope I could inspire you
Thanks for your visit!
Kerstin