Good morning Dusty FANattics
Today I am sharing my take on Sketch-a-Week #43 however because it is also a beachy type layout like the Mood Board and has NEW chipboard pieces on it I thought I would do a blog post so you can see close ups.
If you want to enter this months mood board challenge just add your project into the comments section in the Dusty FANattics facebook page
https://www.facebook.com/groups/1949690068580466
You could win one of two Dusty Attic prize packs.
Sketch #43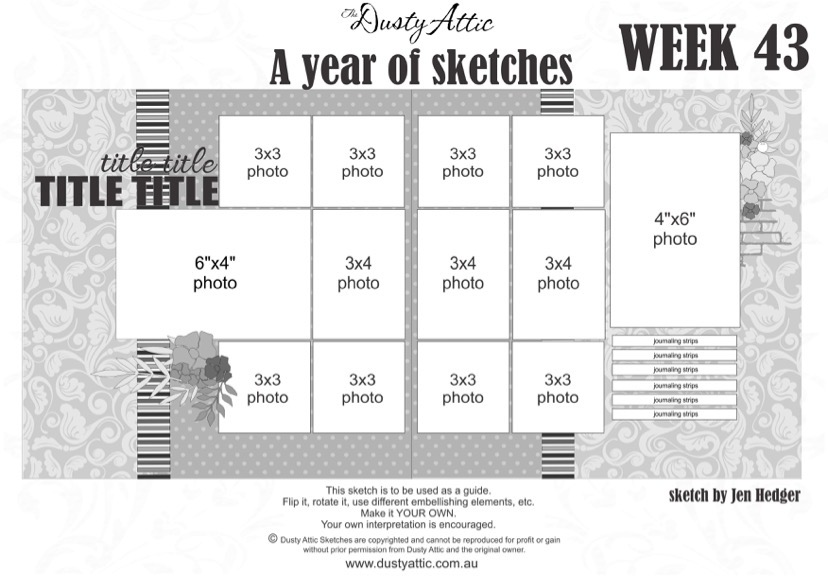 My take on the sketch, as my photo's are vertical and horizontal differently to the sketch I just changed the pages around. That is the beauty of a sketch, it is a platform to jump start your mojo to flow.
Yanchep Lagoon Breakfast
One of my son's works and lives away in a mining town up north. His 12months away has now turned into 18months away and although I miss him he loves it and is saving money to travel, one day of course when travelling is allowed again. So we took the opportunity while he was down for 10days to head out near our house for breakfast together.
I have used the 49 and Market Vintage Artistry SHORE collection of papers, lasercuts and ephemera stack, plus added pieces from the Underwater Layered embellishment sheet and the gorgeous Stitched Frames and finished off the pages by adding Wishing Bubbles.
(These products are also available on the Dusty Attic website)
Out of all the new Ocean elements I would say the large and the mini Jellyfish would be my favorite.
I have also used three different alphabet sets that have recently been released as well
Tall and Lean, Impact and Fun times.
To colour my alphabets I have used white paint, the ocean elements, jellyfish and octopus are coloured using different paints and inks.
To join in the fun of the sketches each week just add your take into the comments section of the facebook page. Plus if you are ever stuck for inspiration we have our sketches plus the sample on Instagram
HERE.
Thanks for taking the time to pop over to the blog.
JB xo