Hello everyone and welcome to 2023, I know we say it every year but how quickly did last year fly by?
I would like to introduce you to the new Design Team Members that are joining us this year each with their own amazing creativity.
Amanda's Instagram Page HERE
A huge thank you to Karan Gerber and Lynette Jacobs for their gorgeous work over the past few years but have both had to leave the Dusty family this year.
Plus the returning Design Team members
Of course "The Boss" Jennifer Hedger
Design Team Co-Ordinator
THE AMAZING TEAM
And not to forget our wonderful Brand Ambassadors
Collectively we wish you an amazing, wonderful year full of creativity and fun.
We would love for you to join in and share your own work on the Dusty FANattics page.
~~~~~~~~~~~~~~~~~~~~~~~~~~~~~~~~~~~~~~~~~~~~~~~~~~~~~~~~~~~~~~~~~~~~~~~
This Months Mood Board inspiration is bought to us by
JEN BURNS 
BUT
Before we go to Jen's post Guess what else "the Boss" has bought back for us this year ???
Much loved Sketches
At the beginning of each month with the new Mood Board I will load a new Sketch to play along with and have fun using. January brings a stunning Double Layout for us.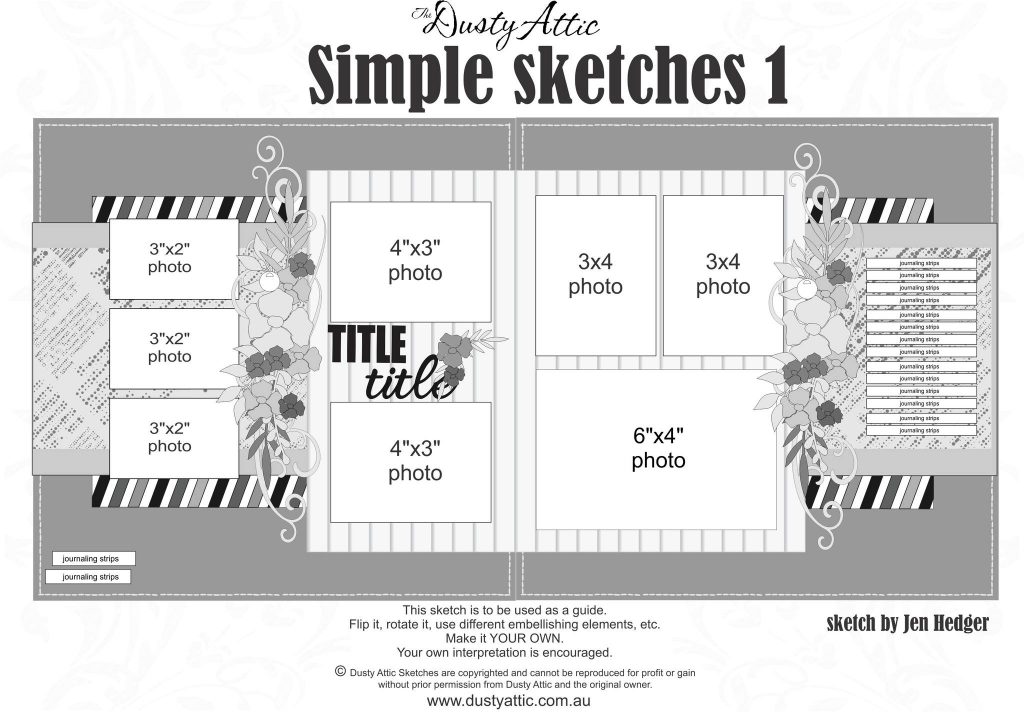 ~~~~~~~~~~~~~~~~~~~~~~~~~~~~~~~~~~~~~~~~~~
Hello Dusty FANattics and welcome to the very first Mood Board challenge for the year!
Hope you had a magnificent Christmas/Holiday season and are looking forward to an amazing creative year ahead starting with your chance to win one of two $50 (AUD) credits to the Dusty Attic Online Store.
"You make me SMILE"
I chose this gorgeous paper that had all of the colourings from the new board and this photo of my beautiful grand daughter when she was littler.
First I cut a rectangle from the middle of the green backing paper to use a photo mat as well as an apricot piece that matches the paper.
Then cut the main patterned paper down to 11.5 x 11.5 to have a border around the edges which I have distressed and inked.
The Dress form and some of the Botanical mix I have sprayed white. The remaining Botanical mixes and Foliage clusters have been painted green with a darker green sponged on small portions to add depth.
The Flowers (#2) have been lightly painted with a pale peach colour then I have added some deeper orange in the centres and sponged edges.
The title has been painted with a pale peach colour then white sponged over the top.
Dusty Attic Chipboard used
You make me SMILE
Impact title