Welcome creative friends!
Our monthly Moodboard is an absolutely wonderful natural inspiration, Love the color theme, shades of green and beige  it has so much harmony and peacefulness for me. So I was inspired to create a canvas in mixed media style,  my chosen theme – Farm Life –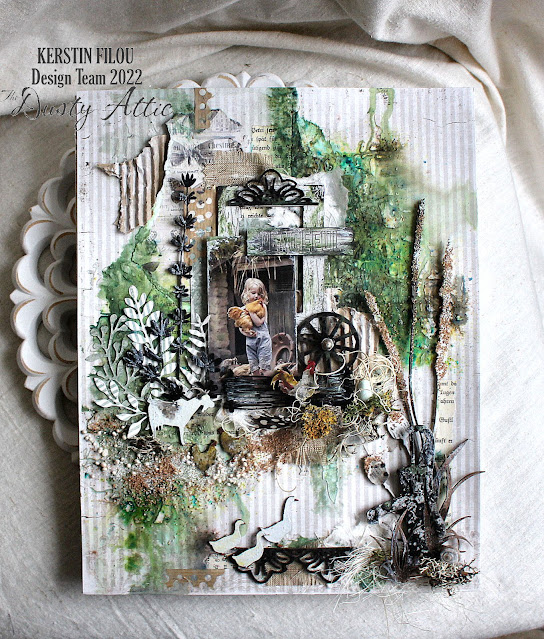 some close up's
Wildgrasses primed with white gesso deco sand was sprinkled into the still damp medium
a very old water pump primed with silver metallic paint and some texture paste and finished with black lacquer paint, both colours repel each other and so this special aged effect is created
Love those old wagon wheels together with the beautiful rooster and an old fence a wonderful ambience for a farm
used Dusty Attic chipboards

We are looking forward to see what you come up with this months challenge. Just put your own take of the challenge in the comments section of the Dusty FANattics facebook page HERE

You could win one of two amazing Dusty Attic prize packs, …this year we are reverting back to the prize being a $50 (AUD) credit to the Dusty Attic website store so you can choose your very own designs.

I hope I could inspire you!
Thanks for your visit!