Hey Dusty Attic fans!
It's Belinda here today to share my latest layout for Dusty Attic inspired by the April Mood Board. Such lovely colours that inspired me to create a more 'rustic' layout about hay carting time on our farm.
'Country Life'

I used some perfectly rustic Kaisercraft papers for this layout starting with the fabulous rusty old tin shed paper in the background. I added a torn piece of the 12 x 12 chicken wire which I painted with a combination of Sunshine, Sunburnt Orange and Cranberry Dusty In Colour Paints. To create the mottled effect, I simply used a latex make-up sponge and picked up each of the colours separately on it. I then dabbed the sponge onto the chipboard taking care not to blend the colours too much.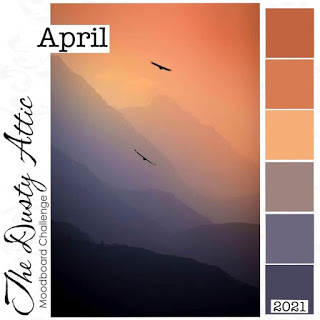 I layered on some torn Corrugated Card that I left in it's raw state and then some more patterned paper. To represent 'hay' I painted Wildgrass # 2 and Wildgrass # 3 Small with the Sunshine paint and glued the pieces onto the layout.

I used the mottled paint effect on the large Tyre Tracks, this time using Chocolate, Cranberry and Bisque paints. I added this to the bottom of the page and then layered on the Paddock Fence small that I had painted with a black Posca Pen. I added my paper stack and photo next along with other chipboard pieces painted with Dusty In Colour paints. Finally I added the title that I painted with the Sunshine paint.

The Dusty Attic products used:

DA0905 Dusty in Colour Sunshine
DA0906 Dusty in Colour Sunburnt Orange
DA0910 Dusty in Colour Cranberry
DA0923 Dusty in Colour Hot Chocolate
DA0402 Paddock Fence Small
DA2554 Country LifeDA2663 Banners # 5
Thanks for stopping by the blog today.
CheersBelinda