Hello Sweeties,
Today I'm up on the Dusty Attic blog with a new canvas whose colors are inspired by the February color combo.

Here is the February Mood Board combo from Dusty Attic.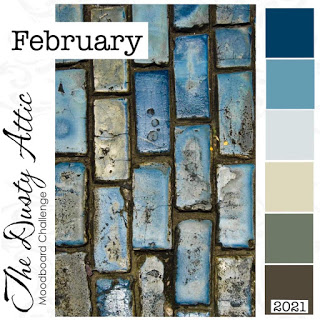 I just love those colors!
I glued some mini brick wall on the canvas. I mixed together some plaster paste and Mini Art Stones to add some texture. I covered the whole canvas with it. While the plaster was still wet I added a few dry leaves. 
I primed all the chipboards with white gesso. When done, I colored all the chipboard with liquid acrylic paints: the flowers from Wildflowers #3 with the Prussian Blue, and the branches with Umber and Avocado, the Flower Buds #2 with Ochre, the Foliage #3 with Umber, and finally the Foliage #23 with Umber.

Finally, I embossed some elements: the Flowers Bud #2 with Twilight Jade Slate, the Wildflowers #3 and the Foliage #23 with Hyacinth Blue Jade, and the Foliage #3 with Midnight Gold.

I primed the resin door with clear gesso before painting it with the Prussian Blue paint. Next, I glued all the chipboards around the door. I waxed the door and the mini birdhouse with Graphite, Old Silver, and White Gold waxes.

To finish, I added some glitters.
Materials:
Dusty Attic products:

Wildflower #3
DA1143

Flower Buds #2
DA1406

Foliage #3DA1293

Foliage #23
DA2594

Mini Brick Wall
DA0814

Mini Birdhouses
DA0706
Other products:Embossing Powders – Lindy's Gang (Midnight Gold, Twilight Jade Slate, Hyacinth Blue Jade);Moulds – Katy Sue Design (ClassicDoor);Art Ingredients – Finnabair Prima (Min Art Stones, Mica Powder: Rust; );Liquid Acrylic Art Alchemy – Finnabair Prima (Umber, Ochre, Prussian Blue, Avocado);Waxes Art Alchemy – Finnabair Prima (Graphite, Old Silver, White Gold);Art Extravagance – Finnabair Prima (Plaster Paste);Art Basics – Finnabair Prima (Clear Gesso, 3D Matte Gel, Soft Gloss Gel).
Thank you for stopping by! I hope you find some inspiration here!