Hello all of our Dusty FANattics,
We have just come back from an amazing 4 day retreat at Muresk, a gorgeous country location just a few hours from home. Our "theme" for the retreat was Music and we had a fun filled dress up night on Friday.

Two Dolly Partons were there, Angry Anderson, Suzi Q, two Disco Diva's, Mickey your so fine dancer and the ever so amazing Amy Whinehouse. These ladies make such a great effort and are so much fun.


Our very own Jen "the Boss" Disco Queen Hedger.




For this retreat we had prepared over 30 new kits for our ladies to enjoy and we now have put the remaining kits up on the website. These kits and supplies are very limited. If you purchase just kits only then these will ship straight away. If you add extra chipboard items then your order will be added to the normal cutting queue and go out in order of receipt.                                                                   

   New Kits Available Now HERE!

Here are a peek of just some of the new kits …
 
  


  


As with all of our kits they come complete with full colour photo, some with full step by step instructions, others have sketch or limited instructions and all the paper, chipboard and embellishments. Please note that all of our scrapbooking kits are strictly limited quantities. Buy them while stocks last! 
  
~~~~~     ~~~~~     ~~~~~     ~~~~~     ~~~~~ 
To introduce this month's Mood Board Challenge is our amazing 
SVETLANA SANOCHKINA
Hi Dear friends
Our April moodboard inspired me to make a layout for my husband. He was ill the previous month and I wanted to support him.
---
Here is the moodboard: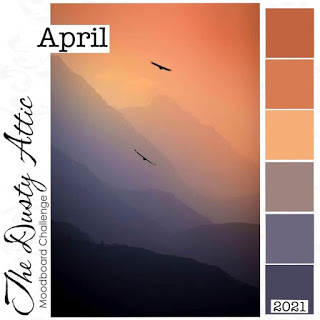 In this layout I wanted to depict our trip to Saint Petersburg last summer. It was light, and I took a lot of notes. So one day we found a street where all the walls were decorated by very beautiful mosaic.All these souvenirs I transfered to the layout with the help of the chippies. I used Indian Arrow #1 and Feather Charmes #3 to show the lightness of our journey.

As I wrote all the activities we made and all the sights we saw I used Creative Script. I am sure that this chipboard is absolutely universal for all kinds of project.

I decorated all the chippies in the project with liquid acrylic and embossing powders creating the effect of a rust texture. I can't help using this effect in a man-kind of project.
At last I added a small label to draw attention to the photo: Mini tabs #4. I love using different signs especially in the layouts.

These are the Dusty Attic chipboard pieces that I have used:
Mini Tabs #4I hope you find some time to play along with this beautiful mood board.
Visit the Dusty Attic online store for more amazingchipboard designs.
Happy crafting!