Hi, dear friends!Our March moodboard inspired me to make a bright layout about flowers and spring.
---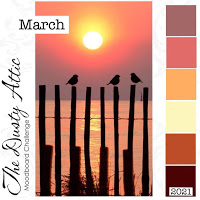 For my layout I've chosen shades of pink, gold, creamy and peach. I wanted to use my old photo with my favourite flowers – peonies. So a chippy title "Absolutely Beautiful" was the best way to express my love to these gorgeous flowers! I covered it with white embossing powder and glued on a piece of vellum.
Other two chippies that helped me to maintain a theme of blooming is DeVine Frame and Cherry Blossom.
I covered them with several different embossing powder at the same time. And just have a look at these tiny flowers from Cherry Blossom! They are falling so romantic! They are adorable!
Also I added some flowers, paper elements and pearls. Creating this layout I understood that the spring is close and coming despite the snow and cold weather outdoors.

These are the Dusty Attic chipboard pieces that I have used:
DeVine Frame SetI hope you find some time to play along with this beautiful mood board.
Visit the Dusty Attic online store for more amazingchipboard designs.
Happy crafting!
There is still heaps of time to enter the Mood Board challenge yourself for a chance to win one of two $50 Credits to the Dusty Attic website and it is super easy to enter, just add your take in the comments section on the Dusty Attic FANattics page here
https://facebook.com/groups/1949690068580466